Super Street Fighter IV Arcade Edition [Steam Config] is a program that allows you config your Steam version of Super Street Fighter IV Arcade Edition & Ultra Street Fighter which shares the same ID.
I created this because when I launch Super Street Fighter IV Arcade Edition on Steam for the first time, it wasn't fullscreen like other Steam games and there is no setting what so ever to make it fullscreen and it frustrated me a little bit. Which made me create this program in the first place.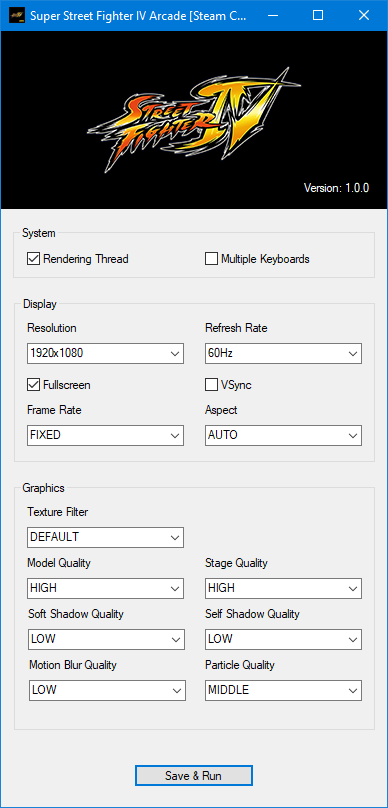 This program can change most of the settings in-game and also adding additional setting such as fullscreen mode which were removed from the Steam version of the game.
Change most of system settings
Change most of display settings (including fullscreen).
Change most of graphics settings.
Some settings may not be changed at this time, please wait for an update.
Other settings must be changed within the game itself.
How to use:
This program requires the Steam version of Super Street Fighter
® IV Arcade Edition or Ultra Street Fighter® IV to be installed.
The program must be copied in to the game directory or else won't work.
Began tweak your settings and then click on "Save & Run". (Make sure Steam is running)
You can also right click on the program and create a shortcut on the desktop.
FAQ:
Why I can not change some settings?

Updates are coming soon to change more settings at least the ones that can't be changed.

Why I get "Steam must be running to play this game (SteamAPI_Init() failed)." error?

This is due to a code being used which thinks Steam not running even if you signed in. Update soon to fix that, but saving still works! Fixed!

My resolution now supported. Why?

I've only tested the game within 1080p range screen, not sure if the game support anything larger than that. If so, please report and write down your resolution so I can add this
Changelog:
V1.0.1:

Added support for Anti Aliasing config.
Added resolution support.
All other available config works now (except for Refresh Rate).